Crawley hospital fire causes patient disruption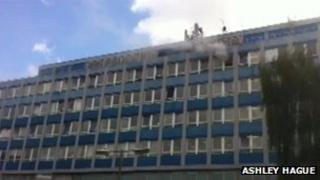 Patients on two wards of a West Sussex hospital have had their treatments disrupted after a fire.
The blaze in a 6th floor store room was reported at just after 13:00 BST at Crawley Hospital, West Sussex Fire and Rescue Service said.
A Surrey and Sussex Healthcare NHS Trust spokeswoman said everyone in the hospital had been safely evacuated.
She said some patients' appointments would be changed and some may be seen at other hospitals.
The fire has affected the Comet and Jumbo wards, the hospital said.
In a statement, the hospital said: "Patients who are due to attend an appointment in day surgery unit, antenatal clinic, women's centre, X-ray, haematology or outpatients will be unaffected by this incident and should attend their appointments as normal."