Cash stolen during Crawley Hospital fire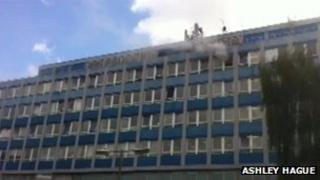 Cash was stolen during a fire at a West Sussex hospital, police have said.
The fire on the sixth floor at Crawley Hospital was reported just after 13:00 BST on Tuesday.
Sussex Police are also investigating thefts during fires at a Brighton hotel, Brighton Museum and Art Gallery, and the city's Sealife Centre.
When staff returned after the fires were extinguished it was discovered that money had been taken from unattended tills.
All staff and patients at Crawley Hospital were safely evacuated after the fire in a store room on the Comet ward.
During the fire a small amount of cash was taken from the till in the hospital restaurant, Sussex Police said.
The first fire happened at 14:00 on Sunday at The Royal Albion Hotel in Old Stein.
The fire at Brighton Museum and Art Gallery started just after 12:00 on Monday, and at 16:30 a small fire was discovered at the Sealife Centre.
Police said the three fires in Brighton caused minimal damage and after staff returned to the buildings they discovered money had been taken from the unattended tills.
A Sussex Police spokesman said detectives were "keeping an open mind as to whether there are definite links between them".