Christopher Bailey crushed lifting weights after drinking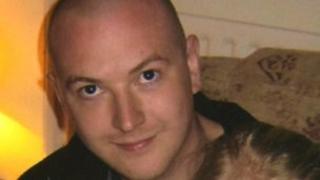 A fitness fan died when he became trapped under a 40kg (88lb) weightlifting bar after a late-night drinking session, an inquest has heard.
Christopher Bailey was found on a weights bench by his landlord in the garage of the house they shared in Mill Close, Portslade, on 19 May.
The inquest heard Mr Bailey had been drinking with landlord Oliver Steer and another tenant until the early hours.
A verdict of accidental death was recorded by the Brighton coroner.
The court was told the tenant, Kevin Mare, had called police during the night to say Mr Bailey was "badgering" him about the location of a bottle of Jack Daniels.
'Knew he was dead'
Mr Steer, 57, found Mr Bailey, 28, on the weights bench trapped by the bar, which was compressing his neck, at about 12:50 BST.
He managed to remove the bar and attempted to resuscitate Mr Bailey on the instruction of the 999 call handler but he had been dead for several hours.
"As soon as I saw him, his face and colour of his lips, I knew something wasn't right," Mr Steer told the inquest.
"I screamed and called his name. I lifted the weights from his chest and called 999.
"They told me to go back and do CPR. I did but he was completely cold and not responding.
"I carried on for a few minutes but I knew he was dead."
Cannabis joint
He said Mr Bailey had bought the weightlifting equipment about six weeks earlier and had cancelled his gym membership.
A cannabis joint was found burnt out on the floor at the side of Mr Bailey's head with his cigarettes and mobile phone nearby.
A post-mortem examination showed Mr Bailey, a chef at a bakery, died from compression to the neck.
Toxicology tests showed he was three-and-a-half times the drink-drive limit, with cannabis also found in his blood.
Pathologist Dr David Wright told the court: "We are not as strong as we normally are when we have 274mg of alcohol on board, not so co-ordinated."
The inquest heard Mr Bailey had talked to his sister Kayleigh Tedford during the evening.
The family described him as a "loving member of the family" who had stayed in touch since moving to Brighton from his home city of Nottingham in late 2011.