Uckfield fire: Teenagers freed on bail in arson inquiry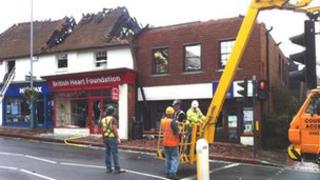 Three teenagers arrested on suspicion of setting a fire which severely damaged a row of shops in East Sussex have been released on bail.
A man aged 18 and two 17-year-old boys, all from Uckfield, were questioned by police on Tuesday.
The blaze spread from a bin at the rear of a building in Uckfield High Street on Sunday, leading to the evacuation of several homes overnight.
No-one was injured but one of the properties will have to be demolished.
Police have appealed for witnesses to the fire to contact them.