Blocked West Sussex sewage treatment pump repaired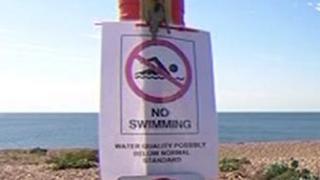 A blockage at a wastewater treatment works in West Sussex that led to raw sewage being pumped into the English Channel has been cleared.
Southern Water said filtered sewage was first discharged through the storm overflow just over half a mile (1km) out to sea late on Saturday night.
The firm said engineers had now repaired the system at East Worthing.
The results of water samples taken by Environment Agency officers on Monday and Wednesday are expected later.
Bathers are still advised not to swim between Southwick and Ferring.
Back-up pump call
In a joint statement, the Environment Agency, Adur and Worthing Councils and Arun District Council said: "The East Worthing sewage treatment works is now back online and discharging fully treated effluent through the long sea outfall in accordance with its Environment Agency environmental permit.
"There have been no further discharges of untreated sewage since Monday 3 September.
"Environment Agency officers have been on site to assess the impact of the sewage as part of an ongoing investigation into what has happened. Pending the outcome of that investigation, they will look to take appropriate action."
Following the discharge, Southern Water said the sewage, which would normally be treated before being released further out into the English Channel, had to be diverted directly into the sea to prevent flooding in Worthing.
Campaign group Surfers Against Sewage has called for back-up pumps to be installed to prevent a repeat.