Eastbourne father's joy as 'abducted' children return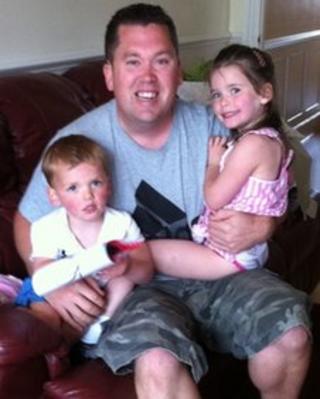 A father from East Sussex has spoken of his joy at having his children home after a court wrangle in Australia.
Darren Cumming said his Australian wife took Tessa, now four, and Jaxon, three, to the other side of the world without warning when their marriage broke up.
He said he was "over the moon" he had his children back after his wife Kylie conceded the case after 14 months.
Mrs Cummings said she disputed her husband's account but wanted to "keep it dignified".
She said she was the primary carer for the children, who were born in Australia and had Australian citizenship.
'Broke down'
Mr Cumming, from Eastbourne, said the children were taken to Australia in May 2011.
"My wife got ready for work as usual and I said goodbye to the children," he said.
"It wasn't until the afternoon that I found out they weren't at nursery. It wasn't until 11pm that night that the police confirmed she was on a flight to Australia."
Mr Cumming flew to Australia last summer for the court proceedings but had to return before the case was resolved.
"The day I had to say goodbye to my children I just broke down," he said. "I flew home that night and it was the strangest feeling of my life."
A party for more than 100 was held when the children eventually returned.
"They are coping well but they obviously miss their mum and I feel awful about that," said Mr Cumming.
"Hopefully she will be able to secure a visa and join us over here but they are really happy children they love being around my family and friends."
'Tip of iceberg'
He urged anybody thinking of taking their children abroad to think again.
"It is not just the left-behind parent who is affected," he said.
"The children are affected and the person who does the abducting is affected.
"I have now secured the return of my children but my wife is in Australia without her children, which is not a good thing."
Nina Hansen, a lawyer for charity Reunite International, said it believed about 500 families in the UK were affected by children being taken out of the country by a parent or being brought in from elsewhere.
"That is really just the tip of the iceberg," she said.
"We believe there are an awful lot of families where this has happened and they have not been able to retrieve the children and not got in touch with the authorities."