Lib Dem Brighton conference 'to cost £2m to police'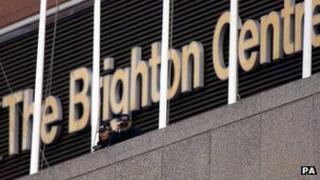 Policing the Liberal Democrats' autumn party conference in Brighton will cost about £2.1m, Sussex Police estimates.
About 8,000 delegates are expected at the Brighton Centre on the seafront from Saturday for the five-day event.
Fencing has been erected around the venue but the security operation is smaller than in previous years. In 2009, Labour's conference cost £6m.
The latest conference could boost the local economy by £15m, Brighton and Hove City Council has said.
Sussex Police said it expected a safe and peaceful protest from campaign groups including Brighton Stop the Cuts and the local trades council.
Deputy planning co-ordinator Niall Griffin said the "island site" for the conference did not include a major hotel and car park.
"There will be overt patrolling by police officers around the island site and a minimum of officers within the island site," he said.
Extra officers would be deployed, with some brought in from other forces, he added.
Adam Bates, the head of tourism and leisure for Brighton and Hove City Council, said: "It has been a tough summer. The early poor weather didn't help and the general economy is making it very difficult for many businesses.
"That said, we are a city with a lot going on and better than most."
In 2011, the Lib Dem's three-day spring conference at Sheffield's city hall cost around £2m, South Yorkshire Police estimated.