Sussex baby killer Jerome Edwards convicted and jailed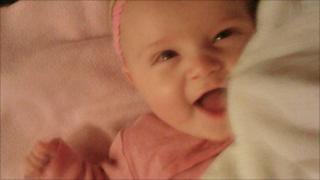 A 27-year-old West Sussex man has been found guilty of killing his girlfriend's 11-month-old baby in Worthing and jailed for eight years.
Jerome Edwards, of Bridgefield Close, Midhurst, was cleared of a charge of murder but convicted of manslaughter at Lewes Crown Court.
Crystal Hall-Hummel died from head injuries after she was left in the care of Edwards, who was not her father.
She was taken to hospital from an address in Nursery Lane, in May 2011.
The baby, whose home was in Christchurch Road, Worthing, was taken to Worthing Hospital and transferred to St Thomas's Hospital in London but died the next day.
'Violent and cruel'
After the hearing, Det Ch Insp Carwyn Hughes said: "What caused him to act in such a way as to leave her fatally injured may never be fully explained.
"Although he has recognised that he was in sole care of her when she collapsed he has never provided an adequate explanation of what he did to the little girl or taken responsibility for his criminal actions.
"In a huge betrayal to both Crystal and her mother, he has portrayed himself as the person who tried to save her, when in fact he was the cause of the massive injuries which she could not survive."
Crystal's mother, Georgina Hummel, issued a statement which said her and her family's lives had been torn apart.
She said: "Crystal's life had only just begun and was cut short by the violent hands of Jerome Edwards, a man both Crystal and I trusted. She was just a baby."
She added: "To lose a child is bad enough, but to lose one knowing that they suffered a violent and cruel death at the hands of someone you trust is heartbreaking.
"Crystal is irreplaceable. I miss her so much and I will never stop loving her."