James Baldwin death blaze suspect released without charge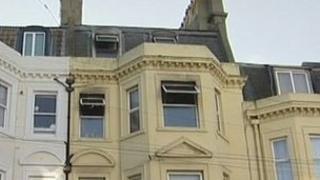 A woman arrested over the death of a man in a fire at his East Sussex home has been released without charge.
James Baldwin, 57, died in the fire in his top floor flat at Charmaine Court in St Margaret's Road, St Leonards on 14 December.
The 60-year-old woman, who lived in the flat and was treated for smoke inhalation, has been told no further action will be taken against her.
Sussex Police said she had been due to answer bail on Thursday.
A post-mortem showed Mr Baldwin died from inhalation of fumes from the fire. Police are not seeking anyone else in connection with the fire.