Jimmy Millen murder: No gun found in Clive Vale fishing lakes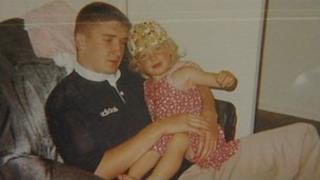 A search of two fishing lakes for a gun used to murder an East Sussex doorman 11 years ago has ended with divers unable to find the firearm.
Jimmy Millen, 27, was shot outside his home in Tile Barn Road, Hastings, by two men who rode past him on a motorbike. No-one was ever arrested.
A team of eight police divers finished searching the lakes at the Clive Vale Angling Club in Hastings on Monday.
Sussex Police said officers would continue to review the case.
Det Chief Insp Nick May said: "The family of Jimmy Millen have been kept updated with developments.
"I have assured them that, although the search has not been successful, we will review any new information that comes to police, and take the appropriate action."
The two-week search of the Clive Vale lakes, off Harold Road, was begun following new evidence which recently came to light.
Police said the divers worked in extremely difficult conditions as the lakes have lily pads, reed beds and up to five feet of silt in places.
"I would like to thank the Clive Vale Angling Club for their support during this search, and the residents of the area for their patience," said Mr May.
A police reward of £10,000 offered in 2001 for information leading to the arrest and conviction in the murder inquiry remains valid.
Father-of-three Mr Millen was working on a car outside his home when he was shot four times at close range.
After the shooting he crawled to nearby Carpenter Drive but died in hospital.
It was later revealed that he had a criminal record after serving a sentence for assault.
Police said last October the murder inquiry would be subject to a review following criticism from Mr Millen's widow Michelle.
Mrs Millen said the family felt there had been a lack of action from the police because of Mr Millen's criminal record.