Tractor driver held over Sidlesham death crash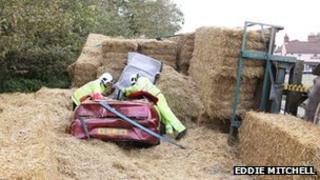 A tractor driver has been arrested after a crash in West Sussex in which a 70-year-old car driver died.
Sussex Police said the man's car was in collision with the trailer of the tractor, and straw bales fell on to the Alfa Romeo.
Sgt Carl Knapp said two other cars were involved in the crash in Sidlesham on Friday, but no-one else was injured.
He said the tractor driver had been arrested on suspicion of causing death by careless or dangerous driving.
Sgt Knapp said the car driver who died, a man from Portsmouth who has not been identified, was the only occupant of the Alfa Romeo.
Anyone who saw the incident in Street End Road has been urged to contact the force.