Uckfield fire repairs 'not before Easter'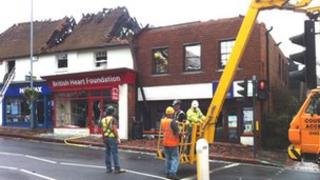 Work on restoring a row of shops damaged by fire in Sussex is unlikely to begin until about Easter next year, the town's chamber of commerce said.
The fire spread from a bin at the rear of a building in Uckfield High Street on 2 September, damaging four shops.
David Marshall, chairman of Uckfield Chamber of Commerce, said work on the damaged listed buildings may not start before Easter.
Three teenagers from the Uckfield area have been charged with arson.
The work will require listed buildings consent as well as local authority approval, Mr Marshall said.
"There has got to be some design work. It has to go through the local planning process including the listed buildings aspect of it," he said.
"It will appear that nothing has happened, and that's because all the processes are going through."