Police seize 150 cannabis plants in Sedlescombe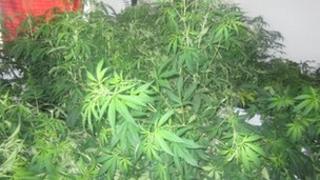 Police have seized 150 cannabis plants from a "factory" at a residential property in East Sussex.
They were called to the unoccupied home in Sedlescombe by neighbours who feared burglars had broken in because lights were seen on for several days.
Instead, police found the medium-sized plants in the front room and paraphernalia for cultivating them including electricity abstraction.
A local man aged 40 has been arrested and bailed in connection with the haul.
Sgt Paul Masterson said: "It is clear from this discovery that neighbours looking out for each other isn't just about protecting homes and identifying security risks but can also lead to finds such as this.
"Without the vigilance of members of the local community this cannabis factory could still be in operation."
The arrested man was released on bail until 18 December.