Brighton footballer says posed photos were 'boy banter'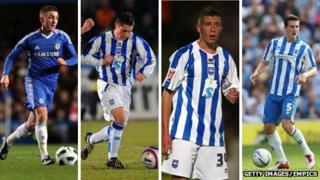 A Brighton footballer who took photos of himself and team-mates exposing themselves in front of a teenager has told a court it was just "boy banter".
Anton Rodgers, 20, denied there was a sexual element to the alleged events in a Brighton hotel room in July 2011.
"It was just a bit of boy banter. It was a laugh but it seems stupid now," he told the Old Bailey.
Mr Rodgers, George Barker, 21, Lewis Dunk, 21, and Steve Cook, 21, deny sexual assault and voyeurism.
The offences are alleged to have taken place at the Jurys Inn Hotel after the Brighton and Hove Albion footballers had gone out to celebrate winning the Sussex Senior Cup.
Mr Cook now plays for Bournemouth.
'Giggling and laughing'
Giving evidence, Mr Rodgers denied the 19-year-old woman was asleep.
"She was just giggling. She was laughing. She was bubbly," he told the jury.
The trial heard on Monday that Mr Barker's initials - GB - were written in foam on the woman's thigh.
Mr Rodgers said they were sprayed by team-mate Leon Redwood.
He told the court he took a photograph of Mr Barker making a thumbs-up sign next to the girl.
"It was a funny picture at the time. That's all it meant," he said.
Mr Rodgers' father, Liverpool football manager Brendan Rodgers, sat at the back of the court with relatives of the accused as he gave evidence.
'Shaving foam'
Lewis Dunk later took the witness stand and told the court he had been on the phone to a girl for 35 minutes and saw nothing of what went on.
He denied joining in, taking photographs or exposing himself.
He said he was sleeping on the floor but was woken by Mr Redwood, who said he could use his room.
He told jurors Mr Redwood had then gone to the bathroom, got some shaving foam and sprayed the woman.
The prosecution has claimed the four accused players assaulted the drunken woman when she was asleep and took pictures as a "record of their conquest".
The trial was adjourned until Wednesday.