Your Paintings: Art projected on to Lewes cliffs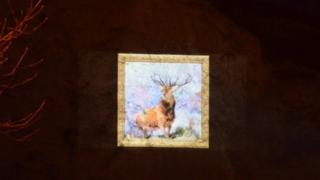 Publicly owned art was projected on to Lewes cliffs to celebrate the completion of a website showing the national collection of oil paintings.
Twenty-seven other iconic locations around the country took part in the projections.
Each location showed four paintings of national interest, as well as three paintings specific to its region.
The projections were part of the Your Paintings online project, with 37,000 artists represented.
The BBC and the Public Catalogue Foundation created Your Paintings in conjunction with participating collections and museums from across the UK.
The projections on to Lewes cliffs included paintings by Vincent van Gogh and Frances Broomfield.