Sussex teenagers urged to report abusive relationships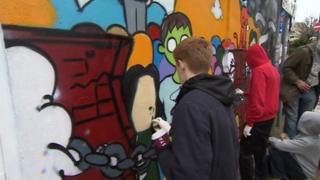 A campaign to urge teenagers to speak up if they are in abusive relationships has been launched by police in Sussex.
The term "domestic abuse" currently only applies to adults, but from next month the definition will be widened to include 16 and 17-year olds.
Police said young people were often unaware that domestic abuse included intimidating and controlling behaviour.
In Brighton, teenagers have been spray-painting large murals to highlight the issue and to stimulate conversation.
Two businesses in the city took part in the project - Bagelman on Bond Street and Costa Coffee on London Road - and gave permission for their side walls to be used.
'Talk to someone'
It was the latest stage of the force's Talk To Us, We Can Help campaign, which is focusing on encouraging people of both sexes to report incidents of domestic abuse.
Det Sgt Laurence Cartwright said: "Domestic abuse can be in many forms - not just physical harm, but intimidation through controlling behaviour, harassment and threats.
"It is difficult for people, perhaps more so for young people who are not used to being in a relationship, to recognise that the way their partner is behaving towards them is actual abuse and is not acceptable.
"What we would like people to do is talk to us or if they can't talk to us, then talk to someone.
"Abuse is something you do not have to put up with."