Millstones stolen from landmark Sussex Jill Windmill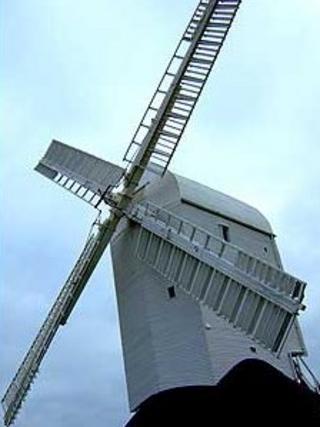 Five large millstones have been stolen from a Grade II*-listed West Sussex windmill that was featured in a Hollywood film starring Michael Caine.
Kent Police said the stones, each weighing half a tonne, were taken from the 19th Century Jill Windmill near Hassocks, during the past nine days.
The structure stands alongside the Jack Windmill on the South Downs, above the village of Clayton.
In 1973 they both featured in the spy thriller The Black Windmill.
A spokeswoman for Sussex Police said: "Thieves visited the windmill sometime since Saturday 2 February and stole these four foot wide stones, which are part of this local landmark.
"One is a distinctive dark grey volcanic lava stone with an inscription of 'oie 1721'.
"Another is a standard millstone but with four holes drilled into it. At least four people would probably have been needed to move each stone and a hedge was cut to enable them to drive them away."
Jill Windmill is owned by Mid Sussex District Council and is open to the public during the summer months.
The pair are collectively known as the Clayton Windmills.