Sailors remain on detained boat in Sussex harbour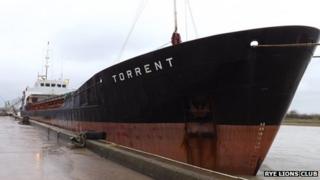 A boat has been prevented from leaving a harbour in Sussex after its owners "stopped trading".
The Torrent has been detained by the Admiralty Marshal in Rye harbour and the crew, five Ukrainians and one Russian, have remained on board.
According to the boat's owners, Independent Shipping, the crew have food, fuel and water.
However, the Rye and District Lions Club said it was providing emergency supplies of fish to the sailors.
A spokesman for Independent Shipping said: "Due to the continuing strained economic climate and the adverse effects this has had on the shipping industry, Independent Shipping is unfortunately in a position where vessels have stopped trading for the time being.
"Every effort is being made to find a positive solution and all our crews on the vessels are top priority.
"They are being well provided for by the company with provisions, fuel and water along with daily contact from company representatives."