Sleeping out in Burgess Hill for homeless charity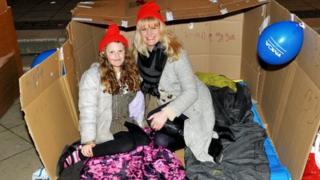 A Sussex charity is asking people to spend one night sleeping rough to raise awareness of homelessness.
The Sleep Easy event is being organised by the Sussex Central YMCA and takes place on 1 March in Burgess Hill.
Last year's event raised more than £5,000 for community projects and money will be used for emergency bursaries and food parcels.
The charity said it provides cardboard boxes, hot drinks and warm food for sleepers who take part.
The registration fee is £10 for adults and £5 for children.
The Sussex Central YMCA said it houses more than 250 young people every night who would otherwise be homeless.