Midhurst complaints over A3 road sign name disappearance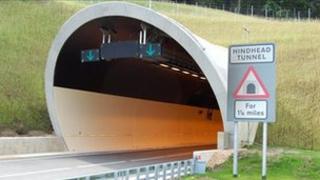 Businesses in a town in West Sussex have complained they have lost trade after the town's name was removed from signs on a major road.
Midhurst is no longer shown on road signs on a eight-mile stretch of the A3 since the Hindhead Tunnel was completed in July 2011.
This has led to complaints that passing trade has been lost.
The Highways Agency said the name was taken off after it reviewed the signs in accordance with current guidance.
Peter Davies, who owns a cafe in the town, said: "We have noticed a difference, to the degree that a petrol station cited it as a reason for them closing down last year."
And John Quilter, who is a town councillor, said the Highways Agency had been contacted, but had refused to reinstate the name.
"We are very disappointed in the response," he said.
A spokeswoman for the Highways Agency said: "We try and take the right approach with signage to achieve the right balance between providing road users with the information they need for their journey and overloading signs with too much information.
"We reviewed the signs in accordance with our current guidance which has resulted in changes to signage on the A3."