Brighton and Hove city car pound 'waste of money'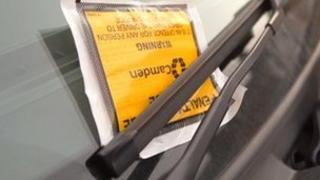 A city car pound is to be scrapped under plans set out by Brighton and Hove City Council.
The council said illegally-parked cars would no longer be towed away and impounded but moved to a space nearby.
In a statement, the council said using a car pound was "too harsh on drivers and a waste of taxpayers' money".
The current on-street parking contract ends in July. The city's new contract, which is recommended for approval next month, will not include a car pound.
'No vehicle removal charge'
Papers submitted to the transport committee said most councils did not remove vehicles and did not have a fully-staffed car pound.
The report said the move would save about £130,000 a year.
A trial carried out last year tested the system of relocating vehicles to a legal position nearby instead of removing them, it added.
The council said drivers whose vehicles were moved would still be fined the standard parking ticket rate of £50 or £70, and would be able to contact police for their vehicle's location, but there would be no additional charge for moving the vehicle.
The council currently removes about 900 vehicles a year to the car pound.