Concrete thrown from Bexhill bridge hits cars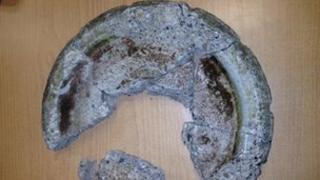 Two cars have been damaged after large chunks of concrete were thrown from a footbridge on to motorists below.
Neither of the drivers were injured as they passed under the bridge over King Offa Way in Bexhill, East Sussex, at about 00:30 GMT on Wednesday.
Police officers suspect the concrete came from a wrecked bird bath and have appealed to anyone who may have had one stolen recently to come forward.
Anyone with any information about the incident is also urged to call police.
A Renault Megane driven by a 27-year-old local woman had its bonnet, windscreen and front bumper damaged, while a Fiat Punto driven by a 48-year-old man from Hastings, and containing three passengers, received damage to its windscreen and roof.