Potentially deadly stonefish lurks at Hastings aquarium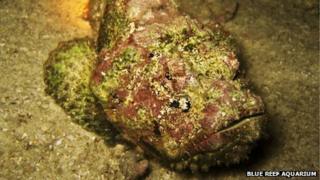 A potentially lethal fish that was given up by its owner has gone on display at an aquarium in East Sussex.
The venomous stonefish had been kept as a pet until it was handed to a pet shop in Hampshire when its tank developed a crack.
The pet shop passed the fish on to Blue Reef Aquarium in Hastings.
A Blue Reef spokesman said the fish's spines were so poisonous that aquarium staff had to undergo special training in handling and first aid.
The fish are found in shallow water and coral reefs in the Pacific and Indian oceans.
'Blend in perfectly'
The venom released from the 13 spines on their backs can kill a human in two hours.
Chris Ireland from the aquarium said: "Stonefish are an amazing-looking species with extraordinarily effective camouflage which allows them to blend in perfectly with their surroundings.
"They also have a particularly fearsome reputation and are known to have caused human fatalities, so we're taking extra precautions to ensure the safety of our aquarists."