Eastbourne maternity services' downgrade plans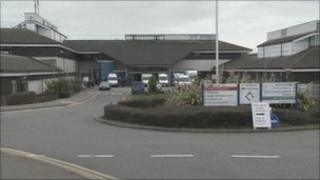 An NHS trust plans to downgrade maternity services at Eastbourne District General (EDG) hospital over safety fears.
East Sussex Healthcare Trust says a lack of doctors means it cannot deliver "the safety and quality" required.
Eastbourne's Lib Dem MP, Stephen Lloyd, said similar proposals were rejected before and the trust must promise any changes would be temporary.
In 2008, regulators refused a bid to change to midwife-led services at EDG.
A meeting of the board of the trust is to take place on Friday where the proposals will be discussed.
Temporary staff
The trust said it had been unable to to recruit enough doctors.
It said there was an "over reliance on temporary and agency staff", and an "increasing requirement to take unplanned action" over shortages of staff at the EDG and Hastings' Conquest Hospital.
The trust is proposing to keep a consultant-led obstetric service and neonatal service at the Hastings and downgrade services at Eastbourne by having a midwife-led unit at the hospital.
In a statement, the trust said: "The proposal would be a temporary change.
"There would still need to be a full and open dialogue with the residents of East Sussex on any proposed permanent changes to maternity services in the county."
'Absolute disgrace'
The MP for Eastbourne said: "We were here five or six years ago, and we won the maternity battle.
"The thing that really makes me angry is that we have discovered over the last few days that there were concerns over staffing levels."
Mr Lloyd said: "Four or five women were on maternity at that time and a number of others were on long term sick.
"Managers must have known that people were pregnant."
"I think it's absolutely outrageous.
"I'm not going to accept some kind of vague promises that it's temporary."
'Hospitals met standards'
In 2011, the Care Quality Commission (CQC) criticised services in A&E and maternity and on wards at Eastbourne and the Conquest.
Its latest report, published in February followed a visit the previous month.
Inspectors said the hospitals now met required standards.
The two hospitals faced uncertainty over the future of both A&E and maternity services between 2006 and 2009.
In December 2007, the trust announced it wanted to upgrade the maternity unit at Conquest Hospital leaving Eastbourne District General with midwife-led care only.
Campaigners fought and won a battle to keep full maternity services at both sites.
The trust was forced into a U-turn in 2008 by the Independent Reconfiguration Panel.