Badger rescued from van wheel to be released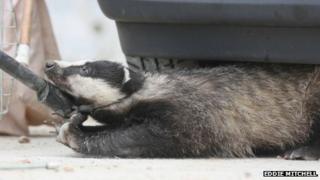 A badger that hid under a van and got caught in a wheel while it was being rescued near Brighton is being released into the wild.
The RSPCA was called after the animal was seen at the bottom of a cliff at Saltdean, below the Undercliffe Walk, with a suspected broken leg.
But when Inspector Steve Wickham arrived, the badger darted under his van and hid in the wheel suspension.
Firefighters had to be called to lift the vehicle, the RSPCA said.
Mr Wickham said the nocturnal animal probably went under the van because it was dark and ended up "well and truly caught in the mechanics".
He said he climbed right underneath the van but could not reach it, and was forced to call East Sussex Fire and Rescue Service.
The young female animal is thought to have come from a population of badgers living about half a mile away and, after veterinary checks, was expected to be returned to them on Wednesday night.