Protesters spend night up Brighton city centre elm tree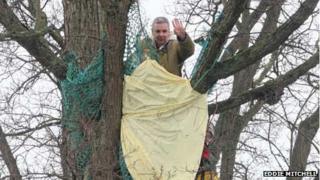 Protesters have spent the night up an elm tree due to be felled as part of a Brighton junction improvement scheme.
Brighton council said Seven Dials was the most accident-prone junction in the city, with 20 accidents in three years.
The council said the tree's roots were damaging the pavement and obstructing the view of the pedestrian crossing.
One protester, Tom Druitt, managing director of Big Lemon Buses, said: "We'll stay up here until they tell us they are not going to cut it down."
He added: "Even those people who took part in the consultation process were surprised when it became evident that the tree was going to be cut down.
"We heard it was going to be cut down today, in spite of lots of opposition. We believe the consultation process should be done again."
National elm collection
East Sussex has one of the country's largest populations of mature elms after controls were set up in 1973 to limit the spread of Dutch elm disease. Since 1998 Brighton and Hove has held the National Collection of Elms.
Councillor Ian Davey, of the Green-led city council, said: "This tree has sadly outgrown its location and the roots are badly damaging the road and pavement.
"It's particularly difficult for those with buggies or in wheelchairs to get around the tree. Mostly importantly, it obstructs the view of the pedestrian crossing."
Mr Druitt, who spent the night up the tree with another protester, said: "It was an interesting night. It was quite warm so we were fine.
"We'll stay up here until they tell us they are not going to cut it down after all and re-consult on the fate of the tree.
"There is space for the pavement [to be] re-done slightly higher so the tarmac would not be so close to the roots."
The seven roads that meet at Seven Dials include the A2010, which is a major route through Brighton.