Brighton protesters come down from elm tree ahead of talks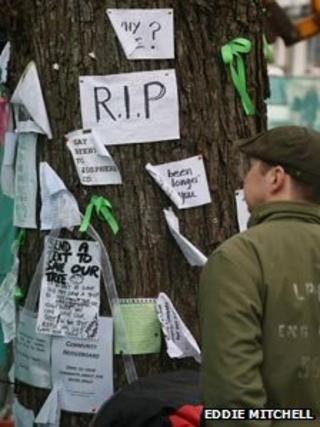 Campaigners fighting plans to cut down a historic elm tree in Brighton have ended their protest after the city council agreed to hold talks with them.
Two protesters spent 48 hours in the tree, which is due to be felled as part of the Seven Dials junction improvement scheme.
Brighton council said the tree's roots were damaging the pavement and blocking the view of the pedestrian crossing.
It said it would "listen to concerns" and consider alternative proposals.
The Seven Dials junction is the most accident-prone junction in the city, with 20 accidents in three years.
'Last resort'
Executive director Geoff Raw said: "There is no question, we need to improve this junction to make it safer for everyone.
"The community-approved design has been widely consulted on, including in a public meeting in December where the need to remove the tree was announced.
"The decision to proceed was taken by the cross-party transport committee in January and includes the planting of 10 more trees which would see Seven Dials become even greener."
East Sussex has one of the country's largest populations of mature elms after controls were set up in 1973 to limit the spread of Dutch elm disease. Since 1998, Brighton and Hove has held the National Collection of Elms.
Mr Raw said felling a large elm was not a decision taken lightly, and was "an absolute last resort".
Campaigners have insisted the tree at Seven Dials should be kept because it survived the disease.
Tom Druitt, one of the protesters who stayed up the tree, said: "The council is going to explore the alternative possibilities that we've given them, which include moving the road slightly to the west, by about 15 inches.
"That wouldn't mean that the pavement on the other side was any less wide than it is now, and the road also wouldn't be any narrower, so there's no losses in that."