Sussex snow and ice causes disruption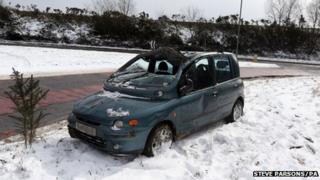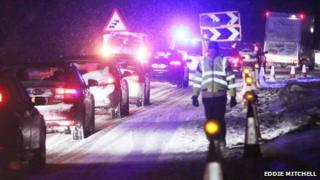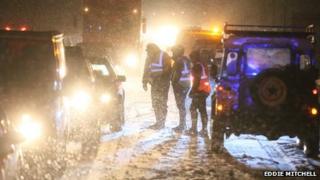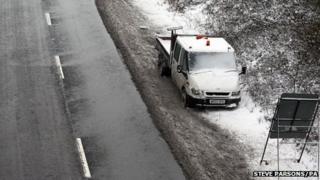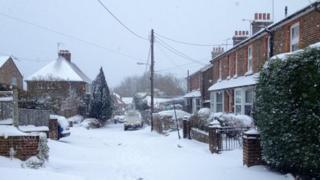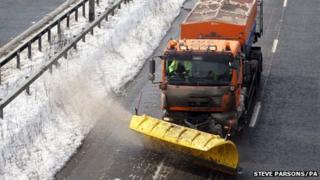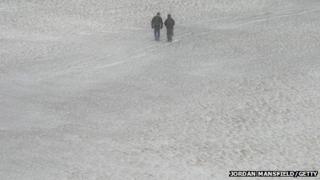 Abandoned vehicles left by drivers caught in the snow continue to be cleared from roads in the South East.
The snow also caused problems for schools - hundreds had to close across East and West Sussex.
Sussex Police urged owners to move their vehicles before temperatures drop below zero and road surfaces freeze.
Tailbacks of up to 15 miles were reported on the A23 between Crawley and Brighton, with some drivers stuck for eight hours overnight on Monday.
The road was reopened later on. Sussex Police said more than 220 crashes were reported in the county in a 24-hour period.
A 19-year-old woman suffered head injuries when the car she was driving was in a crash with two vehicles on the M23 near Crawley.
A spokesman for the force said: "Conditions have improved enormously over the last few hours and while we would still caution drivers about the possibility of significant icy patches as temperatures drop again tonight, we would urge them to move their vehicles as soon as possible.
"Agencies are holding off as long as possible before taking action, but where cars are in dangerous positions or are blocking essential routes, they are likely to be removed."
'Gritting challenge'
Roger Williams, head of highways at East Sussex County Council, said gritters had been gritting roads across the county since Sunday night.
He added: "I think we had a bit of a challenge with the snow falling yesterday afternoon [Monday] in rush hour traffic. When we spread the grit or salt it needs traffic to work properly, stationary traffic doesn't help.
"But we have been out there and laid an awful lot of salt and very much the roads are getting back to normal now.
"The strategic major roads are clear, very much running free. We've got gritters out again at the moment and they will continue running."
The Met Office said isolated snow flurries were possible overnight, mainly in the east towards the Hastings area, with the risk of ice on untreated surfaces. Temperatures are expected to drop to -3C.
More hail, sleet or snow showers, some heavy, are forecast for Wednesday.
Motorists who were unable to leave Pease Pottage service station on the A23 on Monday night because of snowy conditions were told they would be fined if they did not pay the standard overnight parking charge.
Earlier Moto Hospitality, which runs the site, said all charges would be refunded.
In a statement, a spokesman said: "Clearly this was an error and we will be investigating how it came about.
"It is our policy not to charge drivers in these circumstances and on previous occasions we have waived charges, as we will do in this case."
Southern Railways warned passengers to expect delays and cancellations on all routes.
Southeastern trains said the snow and freezing temperatures were causing problems across its network.
First Capital Connect services between Bedford and Brighton were also disrupted.
Gatwick Airport warned passengers to expect some delays and cancellations to services, especially those serving the Channel Islands, because of the wintry weather.
There was also a reduced service on Gatwick Express between the airport and Victoria station in London.
Gatwick advised people to allow more time to travel to the airport.
Gatwick worker Jonathan Lara took eight hours to travel fewer than eight miles on the M23.
Speaking to the BBC at about 01:30 GMT on Tuesday, he said: "It looks like the gritters have been totally caught out by this."
German students
Rail travellers also faced faced major delays.
James Clarke, who was travelling to Hastings on Monday, said: "What should have been a four-hour train journey became an eight-hour train and replacement bus journey.
"The bus part took two hours 45 minutes to get the 12 miles from Eastbourne to Bexhill."
Latest local news, travel and weather
More than 100 German students slept at Hastings town hall overnight as families that were due to look after them could not travel into the town.
Kevin Boorman, of Hastings Borough Council, said: "I've seen the council chamber used for many things, but never this.
"But it's great that we've been able to step in and help, and I know the students, their teachers and the coach drivers really appreciate it."
The enhanced content on this page requires Javascript and Flash Player 9
Map Key
Land
Cloud
Lakes, Rivers & Sea
Fog
Light
Heavy
Frost
Light
Heavy
Pressure Fronts
Cold
Warm
Occluded
Rain
Light
Heavy
Extreme
Snow
Light
Heavy
Temperature tab only
Temperature (°C)
More details from BBC Weather