Sussex motorists recover vehicles from snow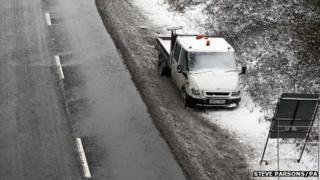 Most of the cars abandoned on a major Sussex road by motorists caught in wintry weather have been recovered.
Scores of vehicles littered the side of the A23 on Tuesday after heavy snowfall left motorists stranded for up to eight hours overnight.
On Wednesday morning police said all the cars appeared to have been removed and traffic was flowing normally.
Officers have urged drivers to continue to take extra care on the roads due to the freezing temperatures.
The Met Office said hail, sleet or snow showers would become more widespread by midday, sometimes heavy, but accumulations were expected to turn to slush fairly quickly.
Gatwick Airport said flights between the airport and the Channel Islands were continuing to be delayed by wintry weather and urged people to contact their airline prior to travel for the latest information.
The enhanced content on this page requires Javascript and Flash Player 9
Map Key
Land
Cloud
Lakes, Rivers & Sea
Fog
Light
Heavy
Frost
Light
Heavy
Pressure Fronts
Cold
Warm
Occluded
Rain
Light
Heavy
Extreme
Snow
Light
Heavy
Temperature tab only
Temperature (°C)
More details from BBC Weather