Brighton protesters meet city council over elm tree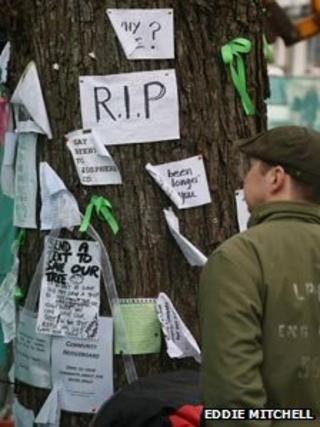 Protestors trying to save an elm tree in Brighton have met council officials in a bid to prevent it being chopped down.
Last week, two protesters spent 48 hours in the tree, which is due to be felled as part of the Seven Dials junction improvement scheme.
Brighton Council said the tree's roots were damaging the pavement and blocking the view of the pedestrian crossing.
Following the protest, plans to fell the tree were put on hold for a week.
The Seven Dials junction is the most accident-prone junction in the city, with 20 accidents in three years.
East Sussex has one of the country's largest populations of mature elms after controls were set up in 1973 to limit the spread of Dutch elm disease. Since 1998, Brighton and Hove has held the National Collection of Elms.
Campaigners have insisted the tree, on Vernon Terrace, should be kept because it survived the disease.
Geoff Raw, executive director of Brighton and Hove City Council, said: "We are listening to concerns and ensuring that the issues surrounding this project are fully understood.
"Any matters raised will be carefully looked at by council officers. We are very much committed to working together with interested parties to move the scheme forward."