Bus gang causes 'mayhem' across Brighton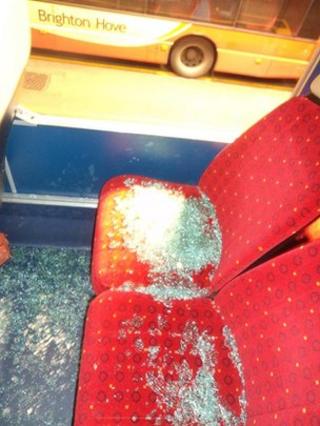 A gang of teenagers has caused thousands of pounds of damage to buses in Brighton as well creating "mayhem" in shops and restaurants.
Brighton and Hove Bus Company said the roof of one bus was destroyed, putting it off the road for four weeks.
"It was the most repugnant, atrocious, awful behaviour terrorising other passengers and drivers," said managing director Roger French.
Sussex Police said more than 52 arrests had been made since December.
Mr French said the worst damage was caused to a bus on Eastern Road.
"They were upstairs and they just ripped the whole roof panel on the upper deck.
"The manufacturer had to make a whole new roof just for that bus and that cost many thousands.
"They have bent seats, smashed windows - it has been a catalogue of wanton vandalism."
'Hurling abuse'
Sussex Police set up Operation Blower in December to tackle vandalism and anti-social behaviour by the gang of up to 30 boys and girls.
"We found out that these same youths were causing mayhem in the shopping centres," said Mr French.
"They were shoplifting, fighting, hurling abuse at shoppers and having fights in restaurants.
"In a city of 250,000 these teenagers are just causing mayhem out of all proportion."
A woman student aged 18, three 15-year-old girls and a 19-year-old man were sentenced by magistrates in Brighton earlier this week for causing over £9,000 damage to a bus in January.
'Hard core element'
The man and woman were each given eight-week suspended jail sentences and ordered to pay £200 compensation.
The man was also ordered to do 120 hours of unpaid work. The woman received a 12-month community order.
The 15-year-old girls were each ordered to pay £200 compensation and given youth referral orders.
"There is a hardcore element to this group of 10 or 11 individuals and a fairly fluid group of about 20 to 30," said Insp Gareth Davies, of Sussex Police.
Police were working with Brighton youth offending service to find ways of diverting teenagers away from anti-social behaviour.
"I am pleased that those in authority - Sussex Police and the courts - have now realised and are dealing with it effectively," said Mr French.