Brighton and Hove 20mph zone publicity drive starts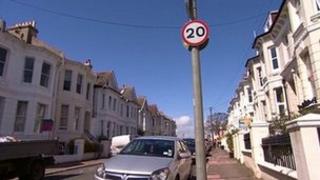 Moves to turn most of Brighton and Hove into a 20mph zone will see a public awareness campaign start in the city.
Road markings and signs are already being put in place ahead of the new limits coming into force on 8 April.
Posters will go up in bus shelters from Monday and adverts will broadcast information across the city.
The new 20mph limit covers most residential and shopping streets in the city centre, the city council said.
Most major roads and routes that take traffic out of the city will continue to have 30mph limits.
Councillor Ian Davey, chairman of the city's transport committee, said the reduced speed limit was intended to make the streets safer and more pleasant for residents, visitors and all road users including drivers, cyclists and pedestrians.
He said: "We want to keep the city moving and research and feedback from other areas where 20mph limits have been introduced has shown there has not been a negative impact.
"However, we will monitor the impact of the limits closely and keep them under review."