Sussex MP urges resignation of health bosses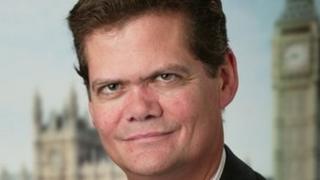 A Sussex MP has called on senior managers at East Sussex Healthcare NHS Trust to resign.
Staff shortages have led to plans for a downgrade of maternity and paediatric services at Eastbourne Hospital.
Eastbourne MP Stephen Lloyd has now joined campaigners calling for chief executive Darren Grayson, chairman Stuart Welling and the board to step down.
A spokeswoman for the trust said the downgrade was temporary.
Mr Lloyd said: "How many more hits do we have to face to our hospital?
"Both the leaders of this - who consistently in my view have been slowly chipping away at the hospital over the last year or so - I think they need to face the consequences.
"We've lost confidence in them and I think they should both go and new people come in to try and actually stop our hospital going through this fatal downgrade process."
'Informed by clinicians'
A Facebook group called "Grayson's got to go" was set up by mother Selene Edwards and has more than 2,000 members, including Mr Lloyd.
Consultant-led obstetrics, neonatal services, in-patient paediatrics and emergency gynaecology will remain at the Conquest Hospital in Hastings.
Eastbourne will have a stand alone midwife-led maternity unit.
A spokeswoman for the trust said: "A strategic and long-term solution will need to be agreed within 18 months through a process of engagement and if necessary formal public consultation which will be led by the local clinical commissioning groups.
"The trust has set out in detail the attempts that have been made to ensure the service can be staffed safely and why these attempts have not been successful.
"The decision made by the board was fully informed by clinicians both from the trust and externally who are of the view based on evidence that the changes will deliver a safer service for local women and babies."