Newhaven's West Beach is a village green, says court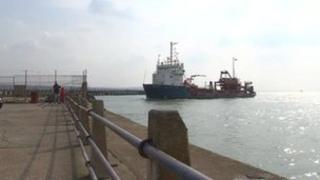 A privately owned beach can be listed as a village green to allow residents the right to use it, the Court of Appeal has said.
Two Sussex councils appealed against a previous High Court ruling stating West Beach in Newhaven could not be classed as a village green.
Village green status gives the public the right to use the beach, which is owned by Newhaven Port and Properties.
The company said it would take the case to the Supreme Court.
It has argued the sandy beach is part of operational land and closed it in 2008, citing safety concerns.
More litigation ahead
A legal wrangle followed, with a planning inquiry finding in favour of East Sussex County Council's decision to reclassify the land for public use.
This was followed by the High Court review in 2011, which overturned the county council's decision, arguing that village green status was incompatible with the statutory purpose for which the land was held.
The county council and Newhaven Town Council successfully challenged this ruling at the Court of Appeal.
Newhaven town councillor Carla Butler said: "I am over the moon that the court has ruled in our favour.
"We still believe passionately that Newhaven port can be regenerated at the same time as securing leisure access to the sandy beach for the people of Newhaven.
"This is a victory for people power."
A spokesman for Newhaven Port and Properties said: "The board of NPP has noted the decision of the Court of Appeal.
"However, NPP were successful at first instance, and the decision of the Court of Appeal was only a majority decision.
"Further to this decision of the Court of Appeal, the board is seeking clarification on several grounds, and will therefore be applying for leave to appeal to the Supreme Court."