Exhibition of Newhaven's Senlac ferry charts choppy waters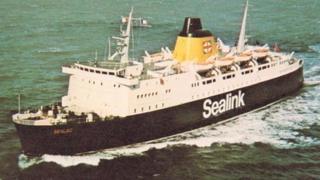 Forty years ago, the first purpose-built roll-on, roll-off (ro-ro) car ferry sailed into service on the route between the East Sussex port of Newhaven and the French port of Dieppe.
It heralded the start of a new era for the service, which was first established in 1847.
It was still a novelty to drive a car onto a boat and the town of Newhaven embraced the change and looked to the future.
Local historian Ian Everest remembers it "as the start of a brave new ferry crossing".
"It was the first purpose-built ship that had been made for the route, cars were able to drive on and off for the first time, and everyone was full of optimism that this was the thing that was going to get the port going and the ferry crossing going," he said.
'Community spirit'
An exhibition marking the anniversary in May 1973 of the first sailing of the Senlac - which was a joint British and French venture operating under Sealink - has opened at the Newhaven Local and Maritime Museum.
Although it charts the history of the ferry, it was anything but plain sailing.
The name chosen for the vessel, which proved to be a successful addition to the route during the 1970s, caused a cross-Channel quarrel.
Senlac Hill was the location of the Battle of Hastings in 1066 and the French were not entirely happy with the choice - despite the victory of William of Normandy.
Images of the battle were featured on board the ship, while the cafeteria displayed scenes from the Bayeux Tapestry.
Then in January 1982, Sealink announced it was pulling out of the route, ending its agreement with the French railway company SNCF, and the Senlac would be sold.
The crew of 240 men and women staged a sit-in on board the ship, which lasted five weeks, and effectively blocked the French-owned ships on the route from using the port.
Last sailing
Two of those crew recalled how "everybody rallied together in a real community spirit".
"The town was with us," said Mick Cutler.
John Paddy said the strikers were also given food parcels.
"There was even a group of CB radio chaps who used to whizz around on motorbikes collecting stuff and bringing it down," he added.
The Save Our Senlac (SOS) campaign received national prominence and the crew won a reprieve, but only for another two years.
In June 1984, following the privatisation of Sealink, the new owners Sea Containers announced that they would be withdrawing from the route.
Senlac was sold to SNCF who assumed total control of the Newhaven-Dieppe route, and the last sailing of the ship under the British flag took place on 31 January 1985.
The exhibition commemorating the Senlac is at the Newhaven Local and Maritime Museum, at Paradise Park, Newhaven, until the end of June.