London's Boris Bikes 'could make Worthing more vibrant'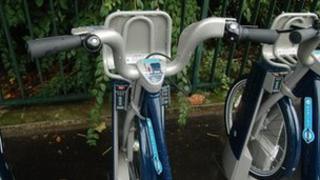 A bicycle-hire scheme could help a Sussex seaside town revive after the recession, a council leader has said.
It follows suggestions that a scheme similar to the Boris Bikes initiative in London could be brought to Worthing.
Worthing council leader Paul Yallop said the idea from a younger councillor could be exciting but he wanted to see what people thought of it.
He said the council would need a local business to sponsor the scheme. The London bikes are sponsored by Barclays.
'Town for retired people'
Mr Yallop said: "The high street and the town centres need to reinvent themselves with what they've been through over the past few years.
"Perhaps this is another idea where we can make Worthing a more vibrant place."
When asked who would use the bicycles in Worthing, Mr Yallop said: "We've got an increasing number of younger people moving into the town.
"Worthing's got a bit of a reputation as being a place for retired people and actually if you look at the recent census data there are more and more families coming into Worthing, so I think there would be a lot of people."
Adding that Worthing was "very flat", he said: "There could be a lot of people that would like to take advantage of a scheme like this."