Double amputee Alan Rutter 'forced to crawl' when lift breaks down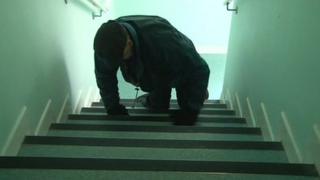 A disabled man says he has to crawl up and down two flights of stairs on his hands and knees because the lift in his block of flats is always breaking down.
Alan Rutter, a double amputee who uses a wheelchair, has complained to the housing association which owns Purbeck House, in Dorset Gardens, Brighton.
He said the lift was regularly out of action, most recently over Easter.
Guinness South said the lift had broken down at least 18 times since August and it was working on a long-term solution.
Mr Rutter, whose legs have been amputated below the knee, said he often had to take his wheelchair out to the landing and crawl down the stairs to the hallway, where he leaves his electric wheelchair.
'Matter of urgency'
As a result, he said he had very sore hands and was in a lot of pain, and had also ripped two pairs of trousers and a jacket.
"I dread to think what would happen if there was a fire," he added.
Andy Mackay, asset management director at Guinness South, apologised for the inconvenience caused to residents.
"We have had issues with the lift breaking down since August 2012.
"On each instance that it has broken down, we have asked our contractors to attend as a matter of urgency and, on the majority of occasions, the lift has been back in operation within 24 hours," he said.
"We are fully committed to resolving the issues. We agree that it is unacceptable that it has broken down more than 18 times since last August and our concerns have led us to engage a specialist lift consultant to work with us on a long-term solution.
"We will, of course, continue to repair the lift if it breaks down and we will provide Purbeck House residents with an update on our plans within the next two weeks."