Protesters gather in Brighton for NHS cuts demo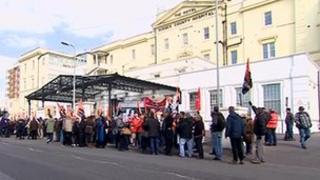 About 100 protestors have gathered outside the Royal Sussex County Hospital in Brighton to demonstrate against cuts of up to £30m.
The event, including a march and rally, was organised by the GMB union, which has voiced concerns about possible redundancies.
The protesters included former patients and members of the public.
The hospital said the NHS needed to make £20bn of savings nationally by the end of 2015.
Last month, nurses in the A&E department raised concerns they were unable to deliver good patient care because of overcrowding and understaffing.
A GMB spokesman said: "Matthew Kershaw took over as chief executive of Brighton and Sussex University Hospitals NHS Trust on 1st April.
"On 19th March he announced that his first act in the job will be to make £30m of cuts."
The hospital said it was the responsibility of every NHS trust in England to make the best use of taxpayers' money by working more efficiently to reduce costs.
Mr Kershaw has said savings could be made by running operating theatres more efficiently.
The hospital also hopes to save millions by turning off lights and computers when not in use.