Copthorne house fire: Second body found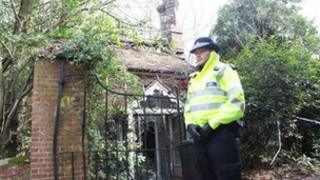 A second body has been found at the scene of a house fire which killed an elderly woman in Copthorne.
Sussex Police said the body, believed to be a 52-year-old man who lived at the property, was found on Sunday.
Investigators had been at the scene in Snow Hill since the early hours of Saturday when fire crews tackled the blaze.
Police said the deaths were being treated as unexplained.
The two people who died have not yet been named.
House 'structurally unsafe'
Fire crews were called to the blaze at The Lodge at Great Finches Farm, near the Dukes Head roundabout at 00:45 BST on Saturday.
The building had been severely damaged and the body of a woman, believed to be an 83-year-old occupant, was found inside.
Scenes-of-crime officers, detectives and fire service investigators started examining the scene on Saturday, she said.
Fire damage made the structure unsafe and care had to be taken to ensure a safe and thorough search, she added.
On Sunday, the second body was found in another part of the house.
The spokeswoman said officers were still tracing next-of-kin and post-mortem examinations would be held during the week.