MPs highlight concerns over University of Sussex plans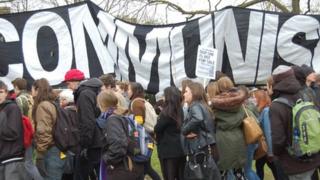 Two MPs have highlighted students' concern about University of Sussex plans to outsource support services and its reaction to a student occupation.
Labour MPs Ben Bradshaw and Andrew Smith have written to vice chancellor Michael Farthing seeking clarification on the plans and recent action.
About 25 protesters were evicted from the Falmer campus last week.
A spokesman said the university had acted reasonably and Mr Farthing had set out the correct position to MPs.
The occupation started over the university's decision to outsource 235 campus jobs, including catering, to external companies.
In his letter, University of Sussex graduate Mr Bradshaw, who represents Exeter, said he had been contacted by a number of students concerned about plans to "privatise 90% of the support staff on campus".
'Improving services'
He continued: "They also allege the decision was made behind closed doors, without consultation and they complain of intimidation.
"I would be grateful if you could explain the reasons for the university's decision and respond to the criticisms that have been made of it and the way it was taken."
A spokesman for Oxford East MP Andrew Smith said: "It [the letter] raises concerns about the plans and the university's reaction to the opposition of those plans."
A University of Sussex spokesman said: "Our vice chancellor has replied to Andrew Smith and Ben Bradshaw setting out the correct position at Sussex in some detail.
"In relation to the protest and occupation, we have explained to the MPs that we sought to act reasonably in bringing an unlawful occupation at Sussex to an end, following the escalation we saw on 25 March into violence, intimidation and theft, which threatened the safe operation of the campus and the health and safety of our staff and students.
"In relation to outsourcing we have made clear that our focus continues to be on improving services to our students and staff by working with specialist external partners who can help us provide high quality services as we grow.
"The suggestion that this relates to 90% of support staff and services is entirely wrong. The plans involve 235 staff in catering and facilities management. The university employs over 2,200 people.
"We will continue to discuss matters with campus trades unions and to support staff transferring, and we continue to facilitate discussions with students through the students' union."
Twenty five MPs, excluding Mr Bradshaw and Mr Smith, have signed an Early Day Motion opposing the university's plans.
Four students have been charged in connection with the eight-week occupation at the University of Sussex and bailed to appear at Brighton Magistrates' Court on 18 April.