Four Littlehampton residents rescued after 'arson attack'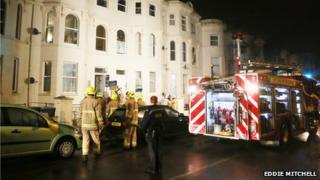 Four people have been rescued from a fire at flats in Sussex in a suspected arson attack.
The occupants were given advice over the phone on how to stay safe after a wheelchair caught fire in the hallway of the property in Littlehampton.
Firefighters from West Sussex Fire and Rescue Service were called to the building in South Terrace just after 04:00 BST.
The fire was extinguished and oxygen was given to two residents.
Sussex Police, who are treating the fire as suspicious, are appealing for witnesses.