Norman Baker MP claims Veolia 'acting like occupying force'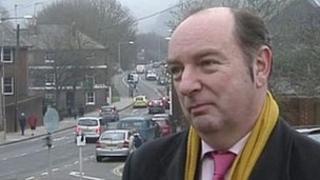 A company that wants to run its waste collection lorries from 04:00 BST six days a week has been accused of "acting like an occupying force".
Veolia Environmental Services is appealing against the collection times specified by Lewes council.
Norman Baker, Liberal Democrat MP for the area, claimed the firm was showing "contempt for the people of Newhaven".
A spokesman from Veolia said it was vital for business that the lorries left the site at 04:00 BST.
The company was granted permission in January to build a depot for its waste collection service, along with HGV and staff parking, skip storage and a vehicle depot.
When granting planning permission, Lewes District Council added a condition to restrict lorry movements to between 07:00 BST and 19:00 BST Mondays to Fridays, excluding bank holidays, and from 07:00 to 15:00 on Saturdays.
A Veolia spokesperson said: "Whilst we were pleased that Lewes District Council granted permission for the depot our appeal relates principally to the restrictions on daily start-up times, which were imposed against the advice of officers and the council's environmental health officer.
"The appeal will allow this matter to be assessed by an independent planning inspector."