Sussex arrested ship's crew 'free to leave' the Torrent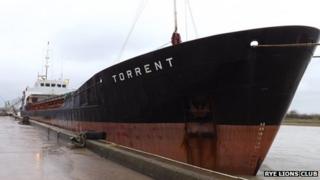 Foreign sailors apparently stranded on a boat detained in Sussex can leave at any time, the vessel's owner has said.
The Torrent was arrested in January off Rye after owner Independent Shipping "stopped trading for the time being".
The crew said then they were destitute and could not go home. The firm has now said the men had been paid to February and would be paid in full, but the crew wanted accounts settled before leaving.
The captain said the crew were awaiting instructions from the ship's owners.
There are currently five Russian and Ukrainian men on board the cargo freighter - the captain, an engineer and three seamen.
A sixth crew member was sent home by the owners because his wife was ill, Independent Shipping spokesman Chris Grosscurth said.
The firm said it had given the men provisions, fuel and water, but the crew have also had food supplies from local charity Rye and District Lions Club.
Mr Grosscurth said a minimum crew was needed to keep any ship operational, which was the captain and engineers, and the ship had to be manned to a degree in accordance with Rye Harbour byelaws.
'No-one is stuck'
He said the crew were currently earning wages for ship husbandry, and this was the same rate they would receive for ship trading.
"The crew have been paid up until February," he added. "We are going to pay them for amounts outstanding. But in the current situation we have to try to find those funds."
He said: "Anyone can leave the ship at whatever time they want. But they wish to be paid before they leave. It's just a matter of getting the March pay done.
"They would still get paid if they left of their own accord, but it's an age-old thing that they wish to have accounts settled before they leave."
He said: "No-one is stuck against their will."
And he added: "I feel for them there, but I can't do anything."
Captain Alexander Moiseev said: "We cannot do very much regarding our next destiny and we can only hope we will go back home as soon as possible."
Adding that the crew had talked to their families over Skype, he said: "Our families worry about us of course, but it is a long time since we stayed here - three months - and we don't know how long it will take to stay here more."
He said: "We cannot achieve some detailed information regarding our arrest. We can only stay and wait for instructions of our owners."
'Living on credit'
Conrad Freezer, from the Rye Lions which has run a public appeal to help the men, said the crew were healthy but "fed up".
He said on Sunday the crew requested a third supply of fresh fish which the charity buys from the Rye fishing fleet.
He said the charity had offered to find the crew a doctor and a dentist, but they seemed to be in good shape.
However, Mr Moiseev had told him the crew, who had families to support, were living on credit and getting into financial difficulty after not being paid, he added.
Bruce Hayley, a maritime law expert, said the crew were "victims of circumstance".
He said they could make arrangements to go home but may face complications at the airport, which could be overcome.
"The problem they face as mariners always do in this situation is they feel that once they leave the ship, they may wave goodbye to any chance of collecting their unpaid wages," he said.
"Now that is not in fact the case. But it can be very difficult to persuade seafarers in this situation that they may be better at home waiting for their wages, rather than waiting on the ship."
Independent Shipping confirmed the ship was arrested by The Admiralty Court in January for commercial reasons and it would have to pay an undisclosed amount for it to be un-arrested.