Sussex Police set out March for England assembly areas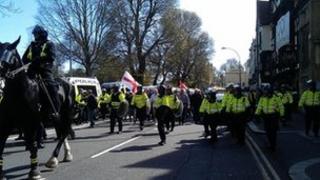 People taking part in a nationalist march in Brighton and an expected counter-protest have been ordered to gather in designated areas.
Officers said notices issued by Sussex Police under the Public Order Act were to prevent disorder, damage, disruption or intimidation.
March for England participants have been told to assemble in an area in Madeira Drive on Sunday.
People protesting against the march are to gather in an area next to the A259.
Supt Steve Whitton said both notices were effective from 10:00 BST to 15:00 BST and people who did not comply with directions may be liable to arrest.
Disruption warning
He said: "As always, our priority is public safety. It is vitally important that those attending the event work with us and comply with directions."
Counter-protests against the march have previously been held by anti-fascist groups, but March for England have denied their group is a far-right organisation, and have described themselves as an English pressure group.
The annual St George's Day march, from 12:30 BST to 14:30 BST, will pass from Madeira Drive to the junction with Middle Street, where it will turn and retrace its steps.
Road closures will be in place and the route will be fenced.