Efforts to clamp down on alleyway 'toilets' in Crawley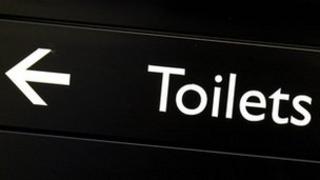 Efforts are under way to dissuade homeless people and street drinkers from using alleyways as toilets in a Sussex town.
Shopkeepers and restaurant owners in Crawley said people were regularly relieving themselves behind The Broadway and The Boulevard.
Peter Mansfield-Clark, from the Crawley Open House shelter, said there was nowhere else for homeless people to go.
Police said officers were working with various partners to tackle the problem.
Ch Insp Justina Beeken, from Sussex Police, said officers were trying to engage with the street drinking community with the aim of getting them off the streets and into accommodation and rehab.
"We've got to get to the root problem of why they're on the streets in the first place," she said.
'Complex problem'
Mr Mansfield-Clark said: "The difficulty is, during the late evenings and nights there's nowhere else for a homeless person to go.
"The public conveniences have shut down, they no longer have access to places like the railway stations, the hospital or anywhere where they can creep in to use the toilets.
"Where on earth can they go? At least they do try and hide themselves away from public view if they possibly can."
Town centre manager Alfredo Mendes said that having toilets open 24 hours a day "wasn't an easy solution".
"Late night toilets attract other anti-social behaviour," he said.
He added that people were still relieving themselves in alleys, even when toilet facilities were available.
"It's a very complex problem but equally, it's very localised," he said.
Mr Mendes said the borough council was working closely with its partners to "dissuade the small number people responsible for this activity from behaving in this unacceptable way".