Michael Griffiths murder: Bogus police visited house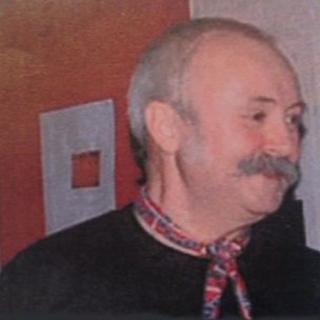 Two bogus police officers tried to get into the house of jeweller two days before his body was found in a fire at his property, Sussex Police have said.
The body of 59-year-old Michael Griffiths was discovered by firefighters at his house in Old Glebe, Fernhurst on 24 January.
Mr Griffiths was known locally for his jewellery, which he made at home.
Det Ch Insp Jeff Riley said: "Michael didn't think they were police officers and didn't let them in."
He added: "They then threw snowballs at this window. They then made off.
"It would be fair to assume that they were there either to do a reconnaissance of the premises or to try and do some sort of distraction burglary.
"Michael was targeted by these two. They don't appear to have called at any other houses in Fernhurst.
"I think that visit is linked to what happened to Michael."
A post-mortem examination was inconclusive and more tests are being carried out to establish the cause of death. The results are expected within the next month, a police spokesman said.
"We have established that accelerants were used to start the fire," Mr Riley said.
Mr Griffiths was known to have a keen interest in militaria and attended a number of fairs at Bisley, police said.
Officers are still trying to trace a black 4x4 which was seen in the area on the morning of the fire.