Brighton hospital staff still getting wrong pay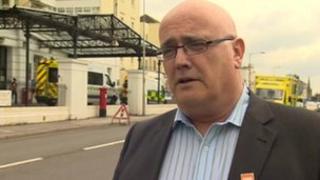 Hospital workers in Sussex are angry they are still not receiving their correct pay, despite months of complaining to their employers.
The GMB union said about 100 cleaners, porters and caterers at the Royal Sussex County Hospital and the Princess Royal were affected by Sodexo errors.
Regional organiser Gary Palmer said low-paid staff were missing amounts ranging from £20 to £100 a week.
Sodexo said it had had about 15 queries a week about minor pay adjustments.
The GMB complained in January that weekly-paid staff had been missing extra hours and basic pay and had needed to queue at the company's office to get emergency cash.
'Really angry'
Mr Palmer said the issue was still unresolved and that a "significant number" of employees had not received the £75 vouchers Sodexo said it would pay as an apology.
"People are really getting angry," he said.
"It's been a long time and we would have expected by now that Sodexo's payroll would be able to put in correct procedures.
"These employees are the lowest paid at the hospital and going to be least able to absorb any reductions in their pay packet.
"Their bills and groceries still need to be paid - I can't see even one landlord saying, 'I'll wait for your rent'."
'Massively damaging'
Caroline Lucas, Green MP for Brighton Pavilion, said the errors were completely unacceptable in a time of economic difficulty.
"People are getting the wrong pay week after week," she said.
"Sodexo isn't some little company - it employs 5,000 people.
"I think they have to put this right at the top of their agenda and to recognise that what might be minor adjustments to them are massively damaging to ordinary people who are struggling to make ends meet.
"They need to treat their staff with respect and decency and, sadly, that doesn't seem to be happening."
Sodexo said every employee had received a salary since the issues were initially raised at the beginning of the year.
"We have received some queries regarding pay but not on the scale claimed by the GMB," it said in a statement.
"In the last five weeks, we received on average 15 queries a week which resulted in minor adjustments to pay."