Hove gunman's name in Xhem Krasniqi shooting 'known to police'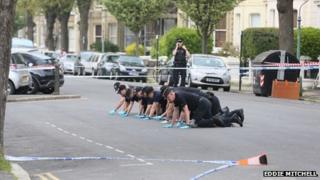 A man shot dead in Hove was a scaffolder visiting family in Brighton with his wife and two young children, police have said.
Xhem Krasniqi, 31, who lived in Kent, was shot in Church Road on Saturday night. The gunman also shot at his two male companions but they were not hurt.
Det Chief Insp Jeff Riley said police believed they knew the gunman's name but were not releasing it.
All ports have been informed in case he tries to leave the country.
More than 20 witnesses have come forward to talk to police.
Pistol not recovered
"The shooting took place in a busy road and witnesses have given us valuable information as to what happened," said Mr Riley.
"We are piecing together all the evidence but we have identified a man we would very much like to talk to in relation to this incident.
"We are making every effort to trace him."
Mr Krasniqi and the two men with him, all of whom are from Albania, were at the junction with Selborne Road when the shots were fired by a man walking towards them.
It is believed at least three shots were fired from a pistol which has not yet been recovered. Mr Krasniqi was shot in the torso and died in hospital.
Mr Riley said police believe the three men and the gunman may have agreed to meet. A possible link between the four men forms a key line of inquiry.
"This is not gang-related and there is no suggestion that the group of three men was part of any criminal group," he said.
"We are investigating this as a murder and two attempted murders.
"Many local people have been shocked and distressed but I can reassure them that we believe this was not a random incident."
He said Mr Krasniqi's family were distraught and were being supported by family liaison officers.
A post-mortem examination is taking place involving a ballistics expert.