'Hove v Gove' campaigners celebrate playing field fight win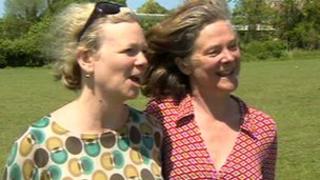 Campaigners in Hove say they are "ecstatic" after the government dropped plans to build a free school on a playing field.
Residents dubbed the fight for the field, used by Brighton, Hove and Sussex Sixth Form College (Bhasvic) and other schools, "Hove versus Gove".
The Department for Education (DfE) announced it had earmarked the field for the King's School, on 18 April.
But, it has now said the land would not now be released for the free school.
'Total shock'
The playing field is popular with dog walkers and is also used as a sports field by Cardinal Newman Catholic School and Stanford Junior and Infant Schools.
Bhasvic and the three other schools said the DfE's announcement it wanted to build on the field came as a "total shock".
King's School, which currently occupies a site in Portslade, said the Bhasvic field was not its preferred site and that it would rather move to land adjoining King Alfred Leisure Centre.
The campaigners delivered a 4,000-signature petition to Downing Street on 13 May.
Lou McCurdy, spokeswoman for Friends of the Field, said the decision by Michael Gove's department not to build on the field was "absolutely amazing".
"It feels like a real victory for local people - if you really believe in something you can change things," she said.
But she said the community had been angered by the lack of consultation.
"It is utterly appalling because they maintained they consulted with the local community but we have had nothing."
The DfE said it had identified the Bhasvic field as a permanent home for King's Free School after discussions with Brighton and Hove City Council.
"The council has now decided it will not release the land," said a spokesperson.
"We are continuing to work with the free school proposers and the council to find a suitable site.
"We remain committed to helping the proposers establish a new school that will raise standards in the area and help to address the pressure on school places."