Brighton train 'racist' verbal attack video investigated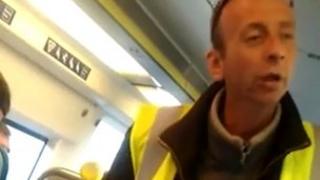 Footage of a man making alleged threats to kill and aiming "grotesque racist insults" at another passenger on a train is being examined by police.
The video, partly uploaded to YouTube, shows a man on a train in Brighton referring to a passenger who woke him up as monkey, gorilla and mongrel.
Other passengers tell the man, who claims in the video not to be a racist, to "shut up" and "sit down".
British Transport Police said officers believed they had identified a suspect.
The passenger who filmed the clip does not want to be named.
He said the verbal attack took place after the victim, sitting in a window seat, woke a man sitting next to him so he could get up.
The man, who was described as appearing drunk, is shown on the video threatening the other passenger with a glass bottle and saying, "Walk there yeah, before I kill you. I'll take your f***ing eyes out", during the incident on 26 May.
'Fear of intimidation'
Transport Minister Norman Baker, MP for Lewes, said: "I've seen the clip on YouTube and quite frankly I'm appalled that this could happen.
"People are entitled to ride on the railway without fear of intimidation and grotesque racist insults that we've seen from this individual."
Southern Railway said the conductor asked for assistance to remove the man from the train at Brighton station.
He was cautioned for fare evasion and his details taken.
A spokesman for the train company said: "The alleged victim did not want to pursue the matter and left the station without giving his details."
'Threatening behaviour'
The man who carried out the rant was wearing an NTL hi-visibility jacket.
A spokeswoman for Virgin Media said: "The NTL name has not existed for six years and the jacket in the video bears no resemblance to the uniform of our engineers.
"We do not believe that the person in the video has any connection with us."
British Transport Police (BTP) said the video had been brought to its attention by concerned members of the public.
A spokesman said: "Everyone has the right to travel without fear of abuse or threatening behaviour" and BTP takes this type of offence extremely seriously."